Rating: ★★★★☆
Genres: Classic fiction
Trying to review a classic is always a dramatic thing: the book normally becomes a classic when a lot of high schoolers have dissected the text a bunch of times and are sick of it. Reviewing The Great Gatsby required me to watch the Leonardo DiCaprio movie (what a terrible sacrifice) and read analyses and reviews online to help structure my thoughts.
The Great Gatsby is two stories in one: the story of Gatsby and Daisy's love affair during the roaring twenties, told through the eyes of Nick, and also the story of the decaying American Dream.
As a first impression, I liked but didn't love this novel. I loved its language: the sentences Fitzgerald creates are rather beautifully built and full of symbolism, but I found the characters difficult to understand. I don't need to relate to a character or to like them in order to enjoy a novel, but with this one I couldn't always understand the reasons behind some actions, nor completely grasp the personality of each one.
It is difficult for me, as a Brazilian living in Europe, to actually speak much for the American Dream theme that is the undertone of this novel. I did love its cynical symbolism and it got me thinking of idealization of people and of the future, of the decadence of morals and character, of privilege and lack thereof.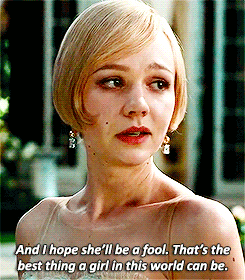 I found Daisy an incredibly curious character that I failed to fully understand, but was fascinated by nonetheless. Her appearance as an unattainable dream, much too distorted by Gatsby's rosy view of the past for it to be possible for him to reach was thought-provoking, and the fact that she is heavily based upon Zelda Fitzgerald is very interesting! I couldn't dislike her. Gatsby himself was someone I had trouble understanding too, with his strange way of speaking, both intense and naïve.
I do recommend this novel if you do not mind the slow pace of the first half of the novel (which is short, in any case), and I recommend the 2013 movie with Leonardo DiCaprio very highly, I loved it so much and it helped me understand Gatsby's character better!