Hello bookworms!
I hope you all had a wonderful Christmas! This is definitely my favorite time of the year, with all the excessive food, the loud talking after some glasses of wine, the cheerful spirits of it, the fairy lights, the gifts under the tree! My family is very fond of Christmas, so we always try to get together and open gifts on the 24th and spend the 25th playing, resting, eating leftovers and generally nursing the hangover after a hectic Christmas.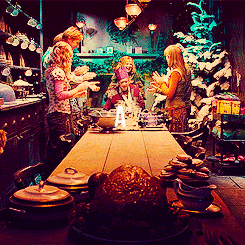 I love the spirit of everyone getting together, having a great time and being excited about the day. I love the decorations and the memorized songs, the warm deserts and predictable dishes.
My birthday is on the 21st, which is always fun – it's normally vacation time, plus cool movies on the cinema, plus everywhere looks ready for Christmas! 😀 😀
Here is the books I got this December for both occasions!
Faust, by Goethe / Goodreads
I've read Faust only once, in English and honestly had a bit trouble following the story. But this is my boyfriend's favorite book of all time, so he decided to give me it in my mother tongue in hopes that I will be able to actually understand it this time and love it forever, no pressure but the relationship may be hanging on his expectation of my undying love for this book. I'm fine though. *sweats profusely* Thank you, darling!
Strange the Dreamer, by Laini Taylor / Goodreads
Help, this book is so gorgeous… I've desired it deeply from the bottom of my heart the moment it came out, and my lovely mother-in-law gave me for my birthday (thank you!)!! It's so gorgeous and the story looks so fantastic, I'm absolutely crazy to read this! (also it's so big)
Vengeance Road, by Erin Bowman / Goodreads
I am so curious about this book (also I'm in love with this cover), and it sounds so interesting with a western story! I've heard many good things about it so I can't wait to read it!
The Strange and Beautiful Sorrows of Ava Lavender, by Leslye Walton
This sounds like such a beautiful magical realism story about family and love, and it's such a small book that looks like it packs a punch! And such a beautiful cover, I'm so into the blue + bronze combination!
Hunting Prince Dracula (Stalking Jack the Ripper #2), by Kerri Maniscalco
I read the first book, Stalking Jack the Ripper, during a Readathon this October and it was SO GOOD, I am so addicted to this series now and I am considering waiting for the third book to come out this year so I can binge-read books 2 and 3!
The Dry, by Jane Harper
I am a sucker for murder stories and I've heard amazing things about this one, and the plot generally just draws me so much in!! I bought this one myself (I have no limits apparently), but I'm still counting it here because it was my gift to myself for my birthday.
Also this is set in Australia, which I find very interesting and definitely need to read more of!
Beneath a Scarlet Sky, by Mark Sullivan
I made the mistake of getting the trial month of Kindle Unlimited because I am travelling for a couple weeks and panicked that my 4 physical books and 5-10 Kindle books wouldn't be enough (because logic), so I got this as a Kindle + Audiobook! It got my attention because I had heard it being called a Young Adult Historical Fiction of WWII, which I've not read much of  – most WWII books I read are adult fiction. The audio is pretty good!
Everyone Brave is Forgiven, by Chris Cleave
I also bought this one on a whim as a gift to myself, but really, I've been looking at this book the WHOLE YEAR and it was just time we admitted our feelings for each other and got together. I do like reading books set during WWII, and this is a love story, and it sounds so beautiful and poignant and I look very much forward to reading it!