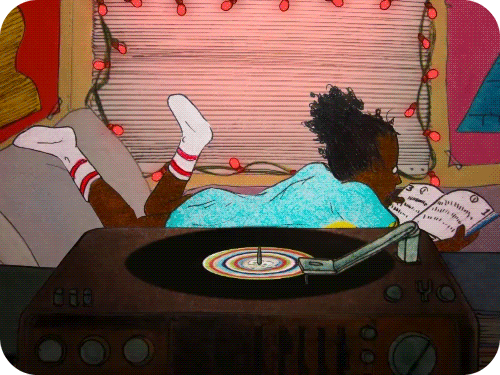 Hello readers!
This week has been very prolific reading-wise, as I have included audiobooks on my walk to and from work, and also sometimes at the gym if I'm doing low-intensity activities. And I also play them when I'm cleaning, or making food in the evening… so they go really fast. Also my choice of books this week were many fast reads and shorter books, so I read them pretty quickly.
Also yesterday my boyfriend and I did another 12-hour readathon! My books were The King in Yellow, Never Let Me Go, The Strange and Beautiful Sorrows of Ava Lavender and Hidden Seams. The others are my boyfriend's choices, and he totally stole my preciousssss Classic Tales of Science Fiction and Fantasy, but it's okay because he's getting books from the library for me, yay!

Also we're getting new shelves because SOMEONE keeps buying books (who could that be)? So next week maybe I'll show a picture to you guys of how they look like after we move and organize things. My boyfriend is excited about being able then to separate books by genre, instead of fiction vs. nonfiction.
Interesting Reads Around the Web
DIARY OF A BOOKFIEND – Review: The Pact, by Jodi Picoult
HOWLING LIBRARIES – Review: Every Heart a Doorway
BUTTON-EYED READER – Review: I Stop Somewhere
HOLLY NUT FREE – Review: White Teeth by Zadie Smith
THE ORANGUTAN LIBRARIAN – Bookish Wonderland for January Blues
KRISTIN KRAVES BOOKS – Books I Can't Believe I've Read
FIRST BOOK LOVE – Bookish Bucket List 10 Things
THE ORANGUTAN LIBRARIAN – Books with the (somewhat) dreaded book travelling syndrome
PAGES UNBOUND – YA and Classic Match-Up
Bookish Videos
My Readings This Week
The Bone Curse is another "Read Now" book in Netgalley that I picked up a couple weeks ago. While touring in Paris, Ben Oris cuts himself in a bone inside catacombs. His friend Laurette believes he has been cursed, but Ben doesn't believe it. But when people around him start falling mysteriously and horribly ill, and a priest starts pursuing him, Ben's skepticism is put to test as he understands he needs to find a cure. I have a review for it coming up in March (when this book comes out), but I was torn – the story is great, but the writing was just okay.
I've been reading Jane Eyre for months… I don't really know why! I think I was in a kind of slump from this book, but every time I pick it up, I really enjoy it, but then I start reading other books instead of picking this one up again. The beginning was bleak and the story itself unfolds slowly. I have to confess that so far I am no fan of Mr. Rochester… I know, I know. But I'm not even 40% through, so maybe I'll change my mind!
After Angelfall, I picked up World After as an Audiobook. I'm really enjoying this series! I wouldn't have thought that a YA dystopia with Angels would be my thing, but this one certainly is! I liked the first book a lot more, I missed the angst and tension between Penryn and Raffe, but this story was very dark and gruesome and enjoyable!! I'm thinking this series would be great as movies!
I picked up End of Days literally 10 seconds after finishing World After. I'm addicted to this series, especially now that Raffe is back!! ❤ I'm devouring this series like candy, and the fact that it comes with audio on the Kindle Unlimited trial certainly helps with binge-reading this. This was SUCH a fantastic book, my heart sure exercised a lot while I read it. It's my favorite of the three.
ALSO, I finished the last 25% of the book at the gym while I was at the treadmill, and oh my god, I was holding the treadmill SO TIGHT during those epic, heartbreaking, tense scenes. I also giggled and gasped a bunch of times, so I'm pretty sure people now think I'm crazy there. Eh, well. I also could swear my heartbeat went up by 10 bpm during the last few chapters.
A River in Darkness: One Man's Escape from North Korea is one of my first non-fiction reads this year. It's the story of Masaji Ishikawa, born in Japan and brought up in North Korea, where his father took the family to when Masaji was just thirteen, in search of opportunity. It's a story about disillusion, brutality and totalitarism. With only 172 pages, this book is so emotional, touching and dark. It's also quite depressing, but I am so glad I read it.
I Know Why The Caged Bird Sings is one of those books I've been meaning to read for so long! When my boyfriend saw it available at the library, he picked it up for me. I've only just started it (5%), but so far it's so beautifully written, so touching and full of feeling. I'm so impressed and my heart aches for the sadness in this book. I decided not to include this one on the readathon because it's such a beautiful and painful read that I want to read it with patience and time.
I started reading Hidden Seams on Friday, which I had off from work, and was 90% through with it by the time I went to sleep, so I decided to include this book to be finished during the readathon! This was very addictive, sexy and I flew through it! I had some minor problems with it, but that's with most books anyway. I'll write a review on it!
Then I picked up this classic decadent of horror and supernatural, The King in Yellow, published in the end of the XIX century and which inspired works of similar genres, like of H. P. Lovecraft. This was such a unique book, and its first part deserves a 5 stars from me. I need to re-read this to make all the connections between the stories and all the symbolism. What an interesting read! I read it in Portuguese, which I think was best, since the original poetry parts in English are difficult for me to read (I read a bit on Wikipedia) and I thought the translation was fantastic!
I've been wanting to read Never Let Me Go for ages! I read The Buried Giant some years ago and, while I enjoyed it and thought it was so creative, it wasn't one of my favorite reads and I don't think I'll ever re-read it, so I wasn't sure what to expect of this book. BUT. Oh my god, it's fabulous. I love it so much! 5 solid stars, and I'm wondering if I could possibly write a review on it where I don't just gush endlessly. I feel like no review I can write can do justice to this book. I immediately added The Remains of the Day to my TBR!
I finished this book with THREE MINUTES TO GO till the end of the readathon, so I picked up…
…The Strange and Beautiful Sorrows of Ava Lavender. I spend about a whole minute staring into the family tree, and with the remaining time I only got through two pages of the book. BUT THOSE TWO PAGES WERE REALLY GOOD, SO. I'll pick this up again once I finish the Maya Angelou book! (and probably re-read those two pages).
PHEW! What a week. I swear I do stuff like work, go to the gym, buy groceries and chores. I have a life, I promise (well… a little).
How was your week? What did you read? Did you read any cool bookish news?