Hello readers!
So you guys know I've been doing lots of reading on Kindle Unlimited – so I am bound to have read some books I just didn't like. I pick the books I'll read very carefully, and I like most of the ones I get. So here are the ones that ended up underwhelming:
The Light of the Fireflies, by Paul Pen
My Rating: ★☆☆☆☆
This is one of the worst books I've ever read. I was enjoying it so much – it's a story of a boy who lives with his family in a bunker, and the boy was born there and never seen sunlight. It's a mix of mystery and horror. THEN. The book starts unraveling its answers for all the mysteries and it has: rape, blaming of the victim, protection of the rapist, abuse, horrifying sexism. I ended the book in complete astonishment, feeling betrayed. I signed up for a horror book, and WELL, I was horrified for sure. I finished cheering for the "villain" and was so angry at the book. I still am!
My Sister's Grave, by Robert Dugoni
My Rating: ★★★☆☆
I didn't hate this book. It was just… okay. Predictable. Too long. Not attention-gripping enough. A regular thriller with an expected ending. I remember this was quite popular a few years ago, but I really don't get what the hype was about.
When I'm Gone, by Emily Bleeker
My Rating: ★☆☆☆☆
I liked Wrecked by this author, but this one was so… meh. I read so little of it before I gave up reading. The story was just so cheesy, so P.S. I Love You (a movie I was so, so bored by). This kind of teary book aren't for me, I think.
Beneath a Scarlet Sky, by Mark Sullivan
My Rating: ★★★☆☆
Another book I didn't deeply dislike or so, but it was so… underwhelming. The dialogue felt wrong, too quote-me-please and I didn't like it. It also felt like the story was dragging on and on and, although the book is based on a real person, it hardly felt like it. A lot of people actually love it, but I have other WWII stories I liked far more.
Everything We Keep, by Kerry Lonsdale
My Rating: ★★☆☆☆
This book was complicated to rate. I didn't love it, I barely liked it, but it was interesting and even enjoyable most of the time. But it's quite cheesy, and the writing is not my favorite either. It just didn't stick in my mind, except that the ending was a cliffhanger – but not enough for me to go on with the series.
Pestilence (The Four Horsemen, #1), by Laura Thalassa
My Rating: ★★☆☆☆
This book was SOMETHING. It was so difficult to rate – it's a gripping, compelling story, and I kept reading because I really wanted to know how it ended. But it's so problematic… it's full of physical and psychological abuse, the love interest is toxic and awful, and the main character is so quick to forgive him TORTURING her. Ughhhh.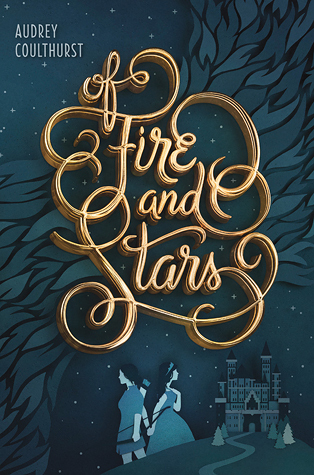 Of Fire and Stars
by

Audrey Coulthurst

My Rating: ★★★☆☆
I wanted to much to love this book – it's a F/F YA fantasy and I don't really see books like that at all. But this was so underwhelming, it felt so generic like I'd already read the book and could tell everything that would happen. Also it's a hate-to-love trope, which I don't like.