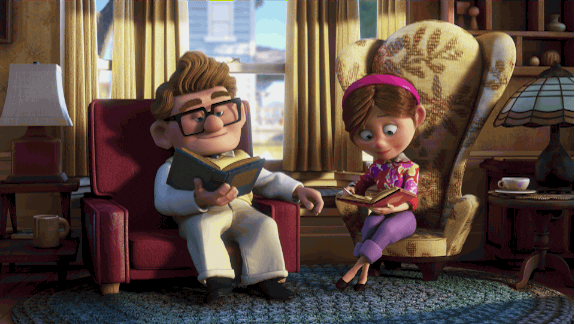 Hello readers!
Tomorrow my boyfriend and I will do a 12h readathon! For those who don't know, he is a bookworm like me. In fact, when we met, he read far more than me, with me reading about 30 books per year and him about 45. After I started book blogging, though (so, less than two years ago), that definitely changed, and he still reads about 45 books, but I'm now on the 100-150 range. I intend to bring those numbers down, but I don't think I'll ever go back to 30 books per year only.
Fun fact about my boyfriend and me: when we met, he found out I was a bookworm and tried to make conversation, so he innocently asked what I was reading. I must have turned the color of beets to my very roots, as I was reading 50 Shades of Gray. I am not in the habit of reading erotic fiction, but I was utterly curious about this series and although I ended up hating the books, it was still an awkward coincidence. Fast forward to almost 6 years later, and he still dates me! And I read lots more smut. EH, WELL.
He and I have entirely different reading tastes, which always makes for interesting recommendations from him to me and vice-versa. I constantly recommend books to him (aka. threaten to break off things between us unless he reads the books I love) and he sometimes indulges me by reading them, if it suits him (he isn't too bothered by my threats, I must say). We agree for example on our undying love for Chimamanda Adichie's books, but I hated Homo Faber and he was seriously underwhelmed by How to Stop Time by Matt Haig. Eh. Well. Moving on!
My TBR
I will be reading books both for my OWNtober readathon and and from my spooky TBR! So it will be a Saturday full of creepy reads!! Last year after my spooky readathon I started having nightmares every night, and then had to stop reading scary books. Let's see what happens this year!
The Unfleshed: Tale of the Autopsic Bride by Lisa Vasquez
The Resurrectionist: The Lost Work of Dr. Spencer Black by E.B. Hudspeth
My Boyfriend's TBR
My boyfriend on the other hand is taking a less themed approach for his TBR. In fact, from the books below, 2 are recommendations from me, which I think was a sweet choice of his. Or maybe he's trying to get rid of my nagging in one day with two books at once. The third book is a play based on contemporary events and Nazis (that's all I know).
Fates and Furies by Lauren Groff
Educated: A Memoir by Tara Westover