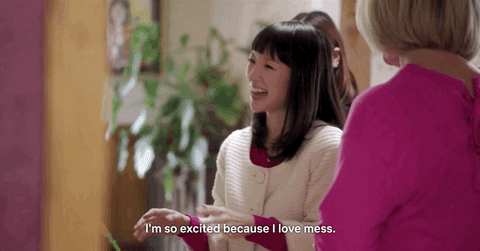 Hello readers!
Approach carefully. This post is full of traumatic scenes, such as books being given away without a second thought, and amateurish photography of said traumatic scene.
If you have been following me for a while, then you probably have seen a few of my unhaul posts, and you know I have NO SHAME when it comes to giving books away. Contrary to popular belief, Marie has no rule that you must burn your books and sacrifice writers in blood rituals. In fact, you don't even need to stick to the 30-book "rule". If you are confused about that, I suggest you read this very helpful article on why she got so misunderstood.
Here is what you need to know about the book step of tidying up with the Konmari method:
Keep books that spark joy.
Joy doesn't mean necessarily happy, gushy feelings of feel-good and marshmallows. It can also have visceral, perturbing reactions that you… approve of. If a book is absolutely gritty and dark and you love it and will read it, by all means, keep it.
Have a designated place for your books so you can see how much you have.
When it comes to books I had on my to-read shelf, I added the rules:
Do I want to read it because it was hyped only?
Does reading this feel like a chore?
They are piled this way because we wanted to see how many of each category – English fiction, English nonfiction etc – we had. English fiction is that giant pile ready to fall down (it didn't). Lots of those books are from my boyfriend, who absolutely got inspired by the show, too.
I also Marie Kondoed the following books out of my Netgalley to-read list:
Have you given away books recently? Did you try the Marie Kondo method?