Hello book lovers!
I haven't participated in a readathon in a long time, and thought this would be a nice one to join! In case you don't know, Tropeathon was created by Chelle and Misty, two bloggers that I admire a lot, so I was excited to see their collaboration!
Here are the prompts! (Image from their Twitter @tropeathon)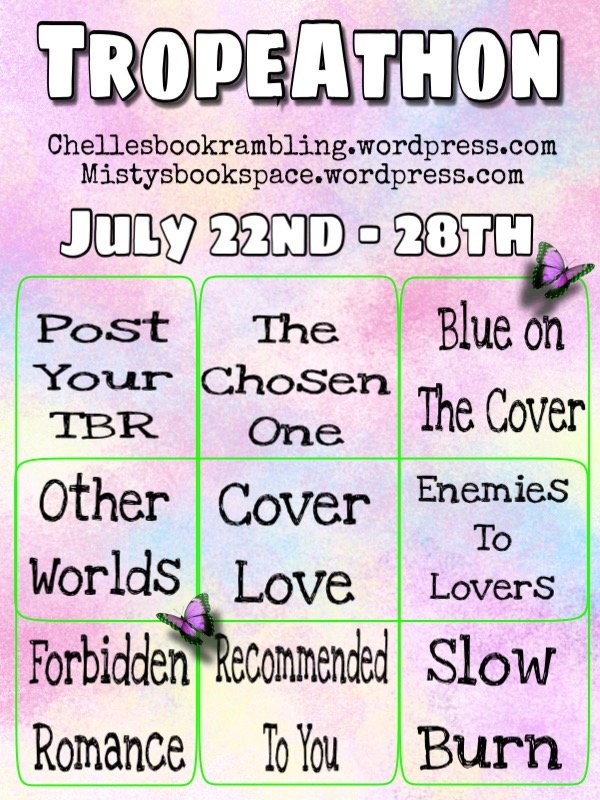 I am going to be pretty relaxed with the prompts because I don't actually have a lot of time this week, but here's what I'll attempt to read:
The Wicked King, by Holly Black: I've been super excited about this book since its release but somehow haven't picked it up yet! Also this is great because it fulfills a LOT of prompts: Blue on the cover, Enemies to Lovers, Other Worlds, Cover Love and Forbidden Romance! I felt so clever with this one.
Binti, by Nnedi Okorafor: I don't actually have that many books that I think would fulfill the Chosen One trope, but this one should do! I couldn't really fit it into any other category except Other Worlds, which I already have. But it's okay because it's 96 pages long and I'm confident I can read it in one sitting!
The Bride Test, by Helen Hoang: This is a lucky one – I got recommended this book after I already got an eARC for it, otherwise I would have to add a fourth book to this TBR. The Bride Test is, I think, a Slow Burn romance and also fulfills the Recommended to You!
So that is it! I know 3 books isn't that much, but it will be QUITE A WEEK for me and I am not even sure I can read those three. But hopefully! I'll let you guys know in a week! 🙂 Are you joining? If yes, what are you reading? I'd love to see everyone's TBRs.