Hello readers!
I would like your help! As explained on my Anti-TBR post, I am quite critical of the books that make it to my TBR. A lot of times they don't make it, and a lot of times they do. Most of the time, however, the books simply remain on a sort of limbo, where I am not sure if to read them or not. So I convince myself I will add them if I keep hearing about them and if I still want them after a few weeks, but sometimes it isn't that simple!
Some of the books below I have simply been unable to decide for years. Because I normally don't take note of the "limbo" books, I had to force my memory a bit here. I'm sure there are many more that I will remember, which is why I wrote this post as a series.
If you've read any of the books below, please let me know in the comments what you thought!
---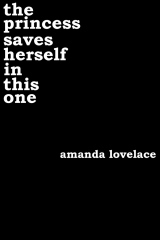 The Princess Saves Herself in this One, by Amanda Lovelace 
I don't like poetry a lot and I hardly ever read them. So I am very hesitant to add one to my TBR, but this one sounds so interesting! I've read very few reviews, and they either say "I hate this, it's not even poetry", or "I love it so much, it resonates with me a lot". It tells a story through four point of views: the princess, the damsel, the queen, you. It sounds like a wonderful feminist piece, but it also sounds like it could be underwhelming.